CX-03 Hairdryer slide switch for hair clipsand.
Hair dryer is rated 10A25V,15A125V,8A250 and 5A250 three options.

Electrical Parameter
---
| | |
| --- | --- |
| Rating:额定电流 | 10A GP 125/250VAC,50/60Hz, |
| Contact Resistance:接触电阻 | ≤30MΩ |
| Insulation Resistance:绝缘电阻 | ≥100MΩ |
| Dielectric Strength:耐压(常态) | 1,500V |
| Electric life(cycles):电气寿命 | 10,000 |
| Operation temperature:工作环境温度 | T85 |
Drawing
---
A Type
---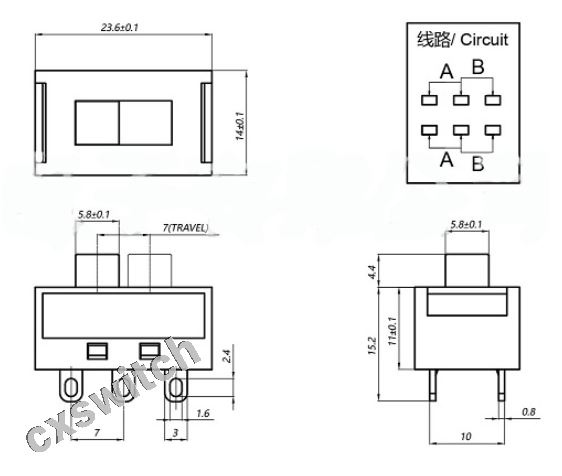 B款式
---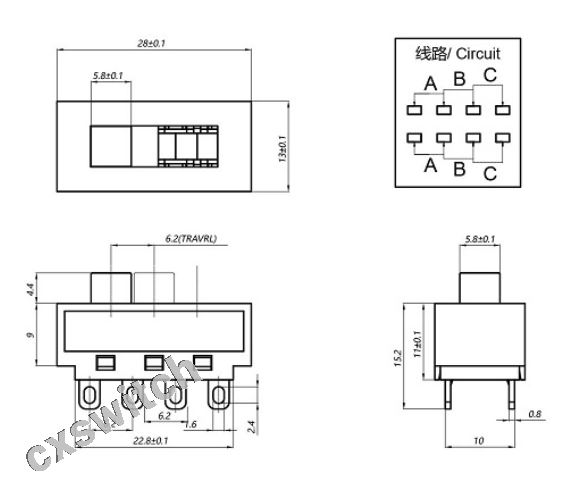 C款式
---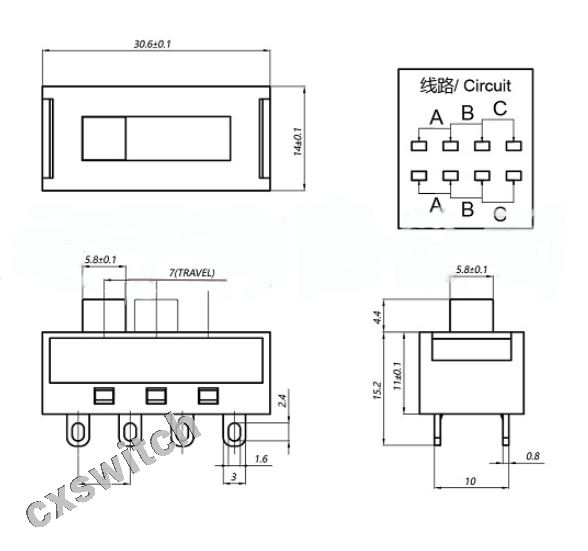 D款式
---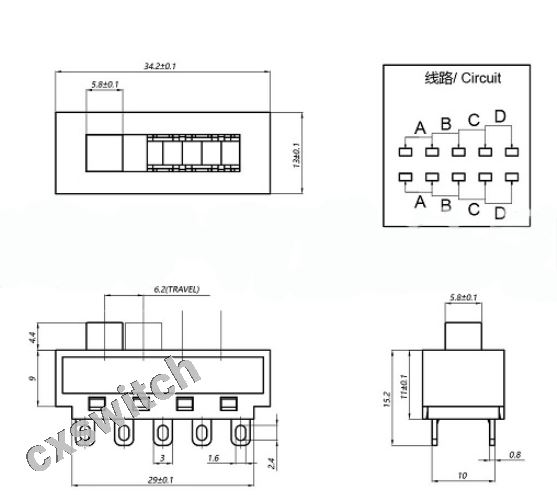 Packing detail
---




CX Switch is a manufacturer of switch and present on the market for almost 20 years, and

thanks to our experience we know everything about switches. We design, test,produce and explore the possibilities.We produce IP67 anti vandal push button switch,IP65 waterproof switch,lighting fixture switch,touch switch,hair dryer switch,slide switch,micro switch,cold air switch,voltage rotary switch,etc
It is worth choosing products supplied by renowned manufacturers,who employ highly-skilled engineering staff with the long-time experience in designing and laboratories with equipment that enables the constant quality control.
Thanks to the professional R&D facilities,the state-of -the-art laboratory operated by specialists and with the constantly controlled production process,CX Switch offers you highest quality switches and best solutions for your appliance.

About hair dryer switch order common questions :
---
1.Q: How many options on current of your hair dryer slide switch ?
A: we have 8A250V and 10A25V options
2.Q:How many terminal styles of your hair dryer slide swtich you can make?
A:We have straight and bend terminal.soler one or PBC one.Special one can be customized.
3.Q:What payment term can I take?
A:T/T or paypal.
4. What is the leading time of order?
A: For regular products, our leading time is 3-5 working days upon receipt of your payment. For customization products, leading time depends on our production line.
5: What is the MOQ for each item of CX switch?
A:500pcs for regular products.
6: What are the products range of CX switch make?
A:CX switch produce Metal push button switch,waterproof switche,hair dryer switch,slide switch,rotary switch.etc
7: I am interested in becoming a distributor in our country.How should I do?
A:We are always looking for motivated distributor partners! If you are interested, we encourage you to contact us by mail
info@cxswitch.com or complete a request form on this site with your contact information.