12V ILLUMINATED ANTI VANDAL
19mm cut out panel anti vandal switches are IP65 rated.Screw fixing.It boats a long life expectancy,with a mechanical life of 1,000,000 cycles and electrical life of 200,000 cycles.40,000 hours norminal lamp life.Non-illuminated or Illuminated.
Electrical Parameter
---

Electrical Rating: 5A36VDC/5A250V
Mechanical Life: 200,000 Cycles
Electrical Life: 50,000 Cycles
Contact Resistance: 50mΩ Max.
Insulation Resistance: 1000 MΩ Min.
Dielectric Strength: 2,000VAC
Operating/Storage Temperature: -20°C to 55°C
Travel: 1.50mm
Moisture Protection: IP65

The Advantage of CX Switch
---


CX Switch is responsible for the highest quality of anti-vandal switch and hairdryer switches.
ISO 9001 Certified Enterprise Customized Production Imported CNC Lathe Selected High quality Pipe Waterproof dust proof High Temperature and Corrosion Resistance Built-in Waterproof Cap Japanese Mitsubishi PBT PA66 Rhos V0 Flame Retardant Excellent R & D and New Product Design Team Long life Led lamp.Built-in Safety Resistance
High precision H62 Brass Silver Plating Copper silver plated contact.
Excellent Craftsmanship and Performance High.
long life expectancy,Mechanical life 1,000,000 cycles momentary,500,000 cycles Latching.multiple actuator styles,screw or solder termination options,for security and appliance markets.
Drawing
---
Flat head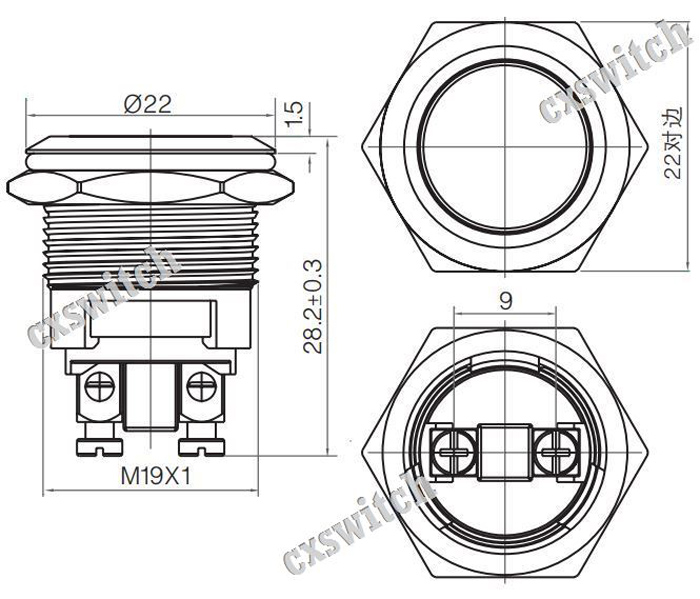 High head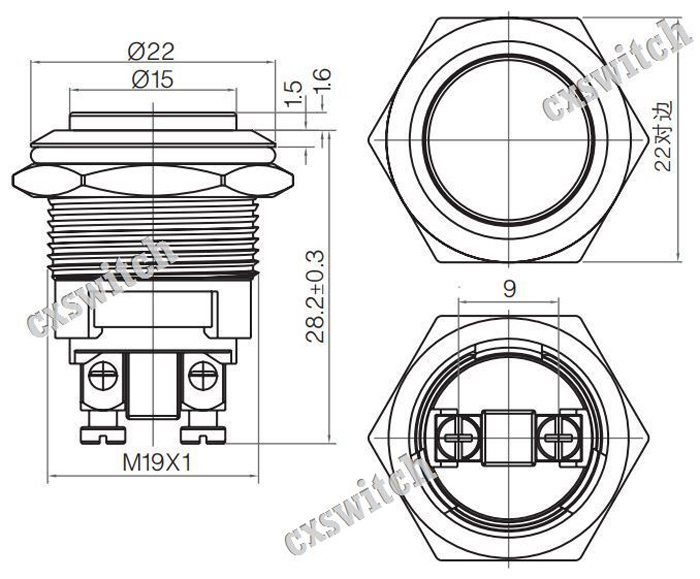 Ball head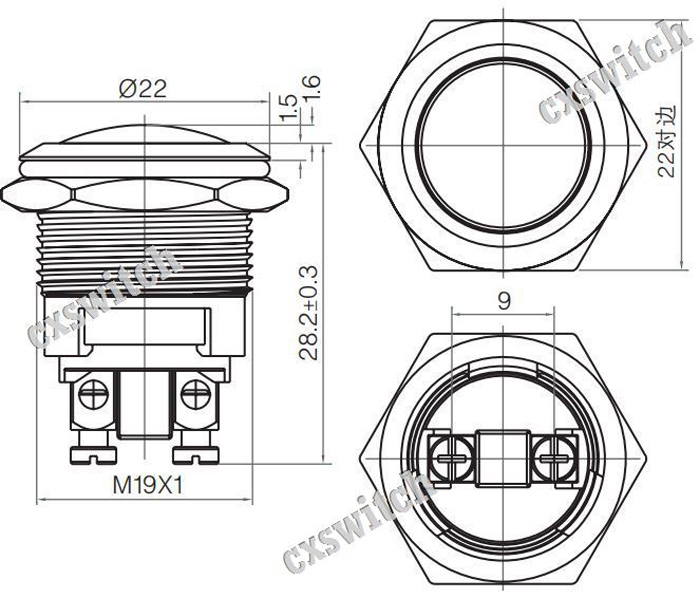 Actuator option

---
Flat,high,ball,mushroom etc


Terminal option
---
Solder lug termination,snap in termination,screw fixing termiantion,wired mounted.

Function
---

Latching,reset.1NO+1NC or 2N0+2NC,SPST,SPDT,DPST,DPDT
Latching

Reset

When you push the button the appliacne power off and the anti-vandal switch's light off too.when you push again,the appliance power on and the swtich'light power on too.

The light of anti-vandal is always on.When you push the button the appliance is power off,when you push again,the appliance is power on.

The light of anti-vandal is always on.When you push the button,the appliance is power on.When you push again the apliance is power off.

When you push the button,the light of the anti-vandal and the appliance both are power on.when you push again they are both power off.
Body color
---
Silver,Golden,Black,Red,Blue,or customized

LED light shape
---

Ring,dot,power signal,or customized

LED color
---

Red,Green,Orange,Blue,White

LED voltage
---
DC3v,DC6v,DC12v,DC24v,DC36v,DC48v,AC110v,AC220v
How to order a right anti-vandal switch?
---

Packing details
---

Anti-vandal applications

---
Anti-vandal switch apply in the field of Lighting,Cleaning equipment,Medical equipment,Kitchen equipment,Home appliance,security devices,industrial controls,Kiosk panels,Audio/visual equipment,Automation instruments etc.Specifically applied to Public interactive kiosks that provide tourist information or government forms Elevator buttons and security switches Pedestrian crossing signal activation switches Intercom "push-to-talk" devices at the entrance to apartment buildings Electronic door switches for garages and mechanical gates Parking lot ticket machines and computerized ticket paying stations Alarm, safety and security systems Automatic food and drink vending machines Public address systems in schools, community centers, and bars Rental equipment that may be subjected to heavy use.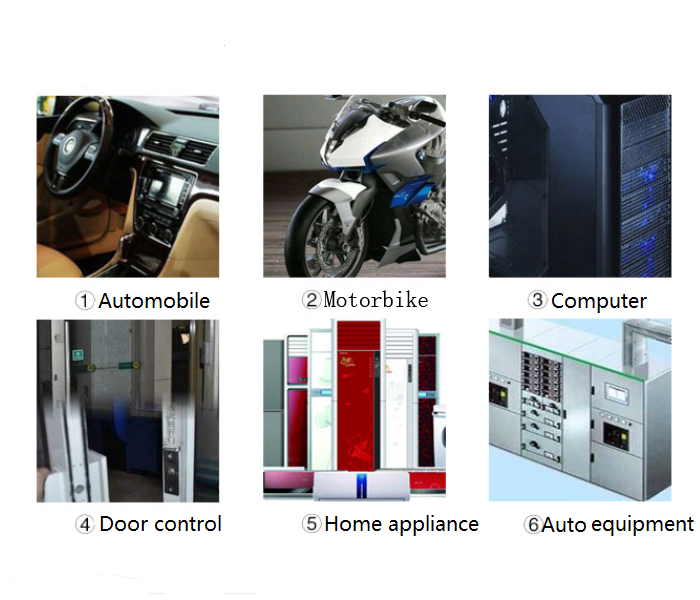 The common questions about metal push button switch order
---
1.Q: How many kinds of diameter about the metal push button switch ?

A: We could make diametaer of 8mm,12mm,16mm,19mm,22mm,25mm,28mm and 30mm

2.Q:What voltage of led do you make?

A:We could make DC3V,DC6V,DC12V,DC24V,DC48V,AC110V,AC220V various voltage .

3.Q: What led color of metal push button switch do you make ?

A:Red,Yellow,Blue,Green,white,orange,Purple etc.Certainly,we also could make double-color LED product as per your need.

4.Q: What kind of functions and circuits of the metal push button switch do you make ?

A: Momentary (function).

Latching( function).

SPST,DPST,DPDT,SPDT

5.Q:What meterail of metal push button switch can you do ?

A:Stainless steel,nickel plated brass, and zinc alloy.plated gold will be customized.

6.Q:What button type do you make?

A:We can make flat,high flat ,arc button.

7.Q:What pin type do you make?

A:We can make screw terminal and solder pin.

8.Q:Do you make button with led and without led?

A:Yes,we can make button with led and without led.

9.Q:Are your factory customized button logo?

A:Yes,we can.
If you still have any questions pls feel free to send us mail.info@cxswitch.com